Menu
Custom boxes for chocolate | Printed boxes for chocolate
Custom boxes for chocolate
There's nothing quite like chocolates, the favorite dessert for all cultures and ages. Good Packaging plays the most important role in the chocolate itself in finding its rightful market. We have provided chocolatiers with hundreds of custom box solutions for their first entry into retail and special market segments.
These boxes can be printed with other security printing to prevent duplication of design and construct boxes to retain the freshness of the delicious chocolates inside. The boxes can be made in almost infinite shapes, including heart-shaped or any custom shape needed. The dimensions or geometry can be altered, but also to have as many customized divisions and slots as required. We have numerous excellent alternatives for you.
Luxury Custom boxes for chocolate
Our design team has several artwork choices custom boxes for chocolate without die-cut and configuration changes. You can direct your specification to our young and passionate design team, and also, they will undoubtedly create sensational style options for your custom boxes for chocolates. We understand the relevance of quality supplies and inks needed for efficient printing of packaging items; consequently, premium supplies and inks are utilized to produce high-quality boxes.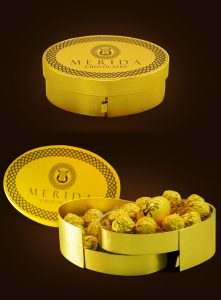 Luxury chocolate boxes share the warmth with your loved ones. You can have straightforward, classy, premium, and cutting-edge packages for treasuring each event. Depending on the number of chocolates placed in a box, the shapes and sizes can be personalized. Heart-shaped chocolate boxes and Luxury truffle boxes look fantastic. For delicious chocolate confectioners, the boxes with their logo design and brand name play a considerable function in packing the desserts.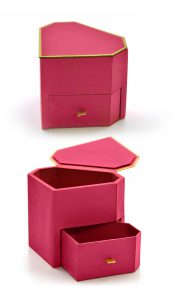 Custom boxes for chocolate with marvelous designs draw the attention of the onlookers. Ribbons, laces, and paper flowers add to the liveliness of the packages. For the chocolates to remain sumptuous, the packaging box should be made of high-quality material.
Make your awesome chocolates more pleasing for the consumers through a creative luxury chocolate gift box. have a Chocolate Box crafted that speaks aloud about your yummy chocolates based on your product attributes? All your occasions can be memorable with great custom boxes for chocolate. For bridal showers, heart-shaped Chocolate Packaging Boxes are an ideal option.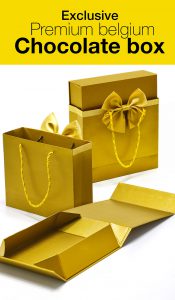 The only thing that can please your little girl more than a box containing her favorite chocolates is a box containing her name. Handmade chocolates packaging boxes in startling boxes would lure the people with sweet teeth into checking out your exclusive chocolate delicacies packed in our special packages.