Menu

Case Studies
Our process flow from start to end
Process Flow
Start to finish of our products
KOTADA DANGLER
2800 acres of Tea carpeting the Nilgiris – That is the legacy of Stanes, the renown South Indian Tea manufacturers. Today, with over 6 decades of refreshing performance, Stanes is a highly sought after Indian Tea, selling millions of kgs overseas to Tea Connoisseurs.
Bell Printers continues to support Stanes through a Retail Dangler project to boost sales, and this case study follows from start to finish of the Dangler.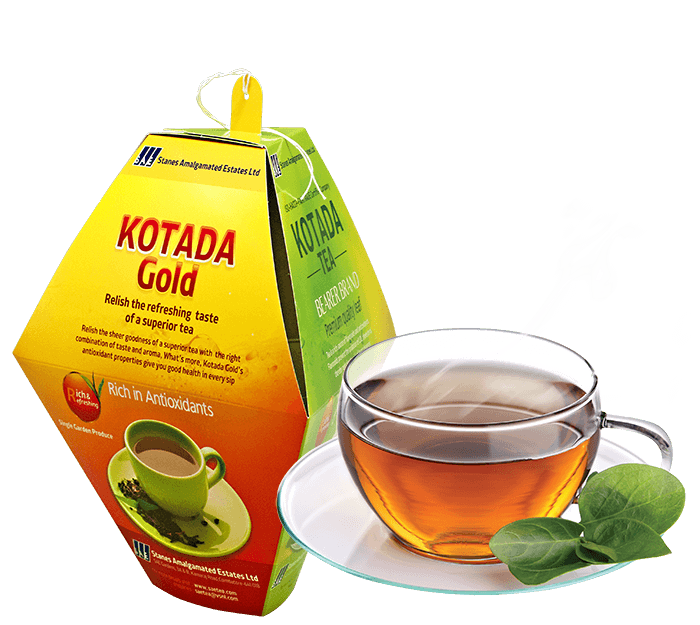 Sketching
Our Product Development at Bell begins with many rounds of how the geometryof a design can be so unique that the end product will be love at first sight. With the end in mind, an artist creates a sketch that will be validated against the customer's first impression.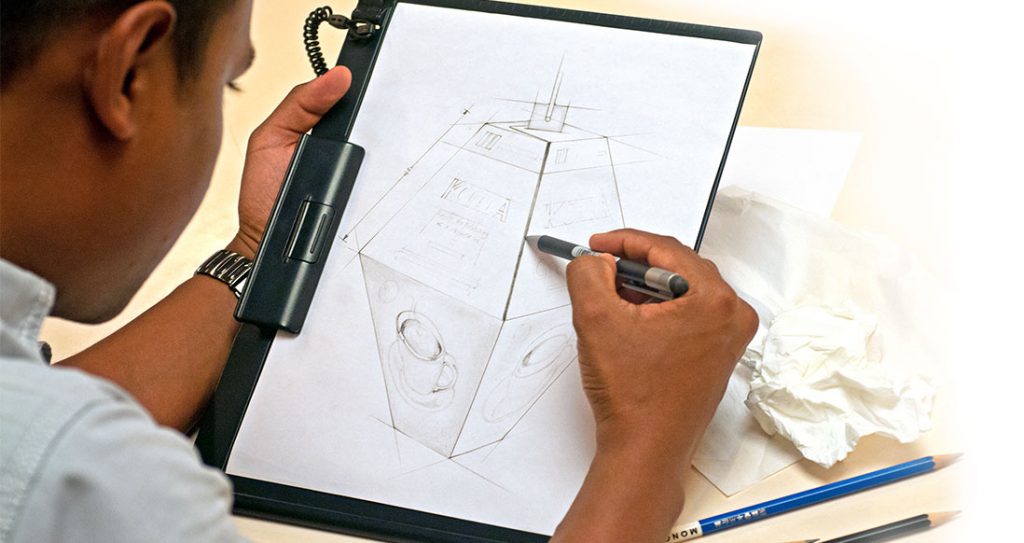 Perfect Prototyping
With state-of-the-art sample making tools and technologies, our prototype developers with decades of packaging experience check the sketch's geometry, fusing form and function for mass production. This test for accuracy and perfection with a watchmaker's precision with the synergy of our designers creates packaging magic.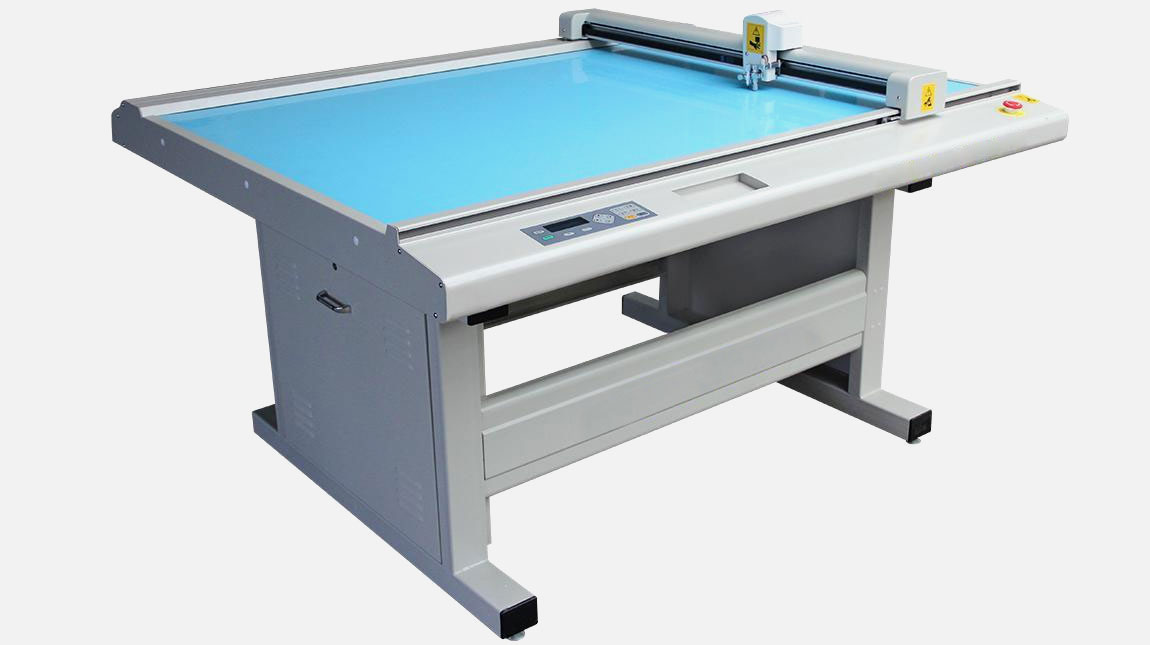 An Ornate Origami
Special Packaging software recreates 3D views to help us visualize even before making a prototype. Then the customer validates the prototype by checking itsform, function and visual appeal.
Once the customer has a gut feeling that it looks great, the Dangler then goes through an amazing transformation from our artist's thought to a three dimensional object, as a tangible prototype.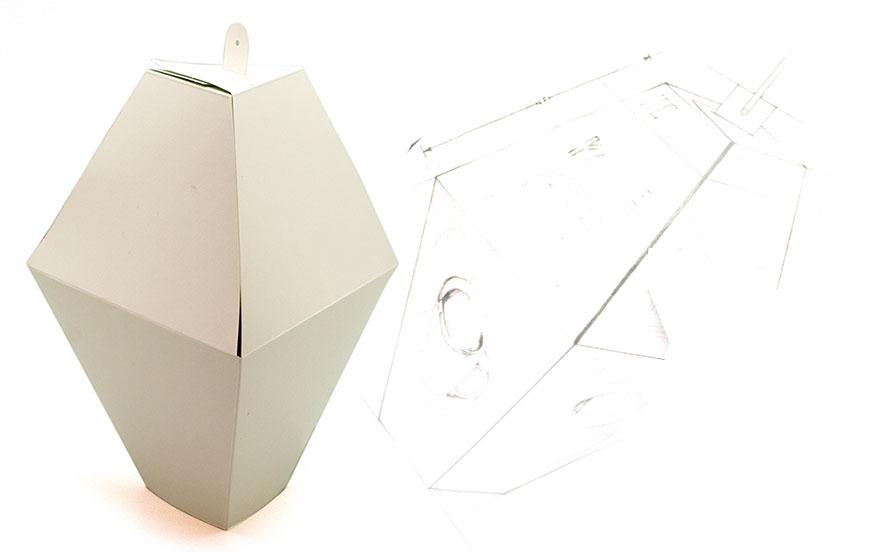 Key Line Conversion
To setup the Dangler for mass production, a Prepress Specialist works on setting up the prototype for Die manufacturing. With a host of specialist suppliers coordinating in perfect unison, a high quality Die is prepared based on volume requirement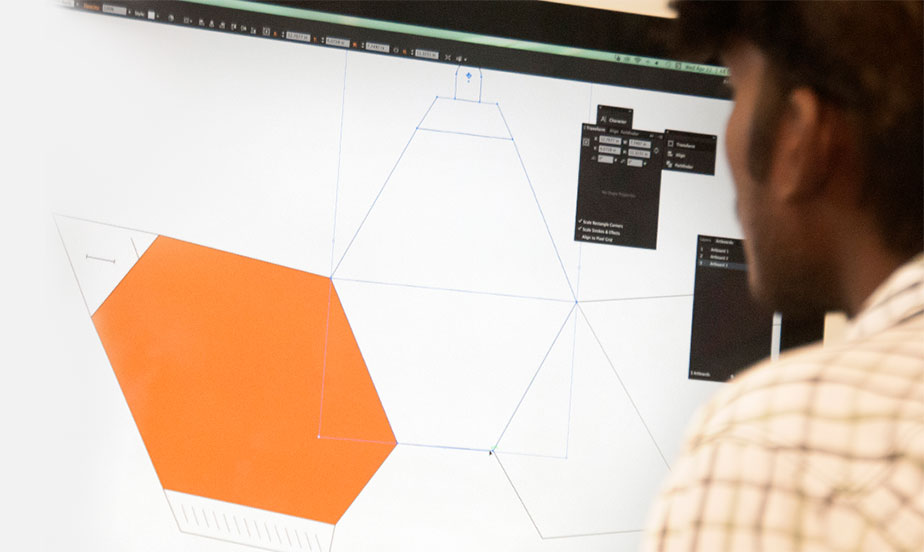 Die Making
After the Key Line Drawing is done, Die making and verification is a standard procedure. In-house die makers along with expert Laser Die manufacturerscreate dies according to which machine we will use from our Die Cutting arsenal.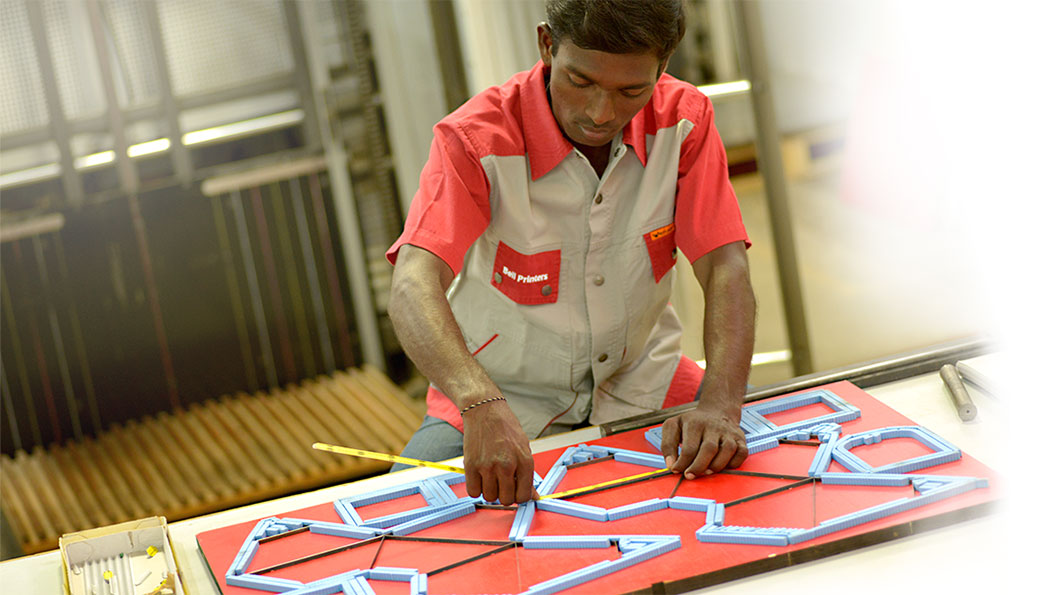 Versatile Design
Design being one Bell's core strengths, a team of seven highly skilled design specialists, experts in visual communication and packaging design, begin their magic. They will prepare the Dangler prototype in a way that it will have excellent print definition. All additional processes like UV, Emboss orFoil stamping are also developed.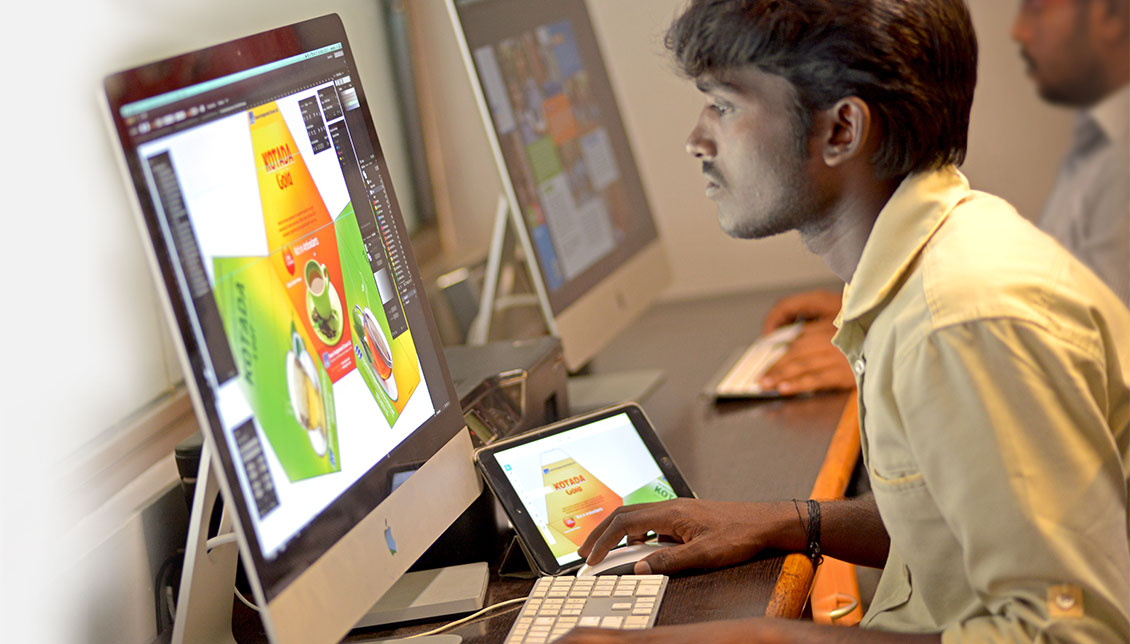 Digital Proofing
A high resolution Digital Press from Xerox calibrated to match Offset Quality by upto 95%, allows us to instantly check proof and await feedback from our customers.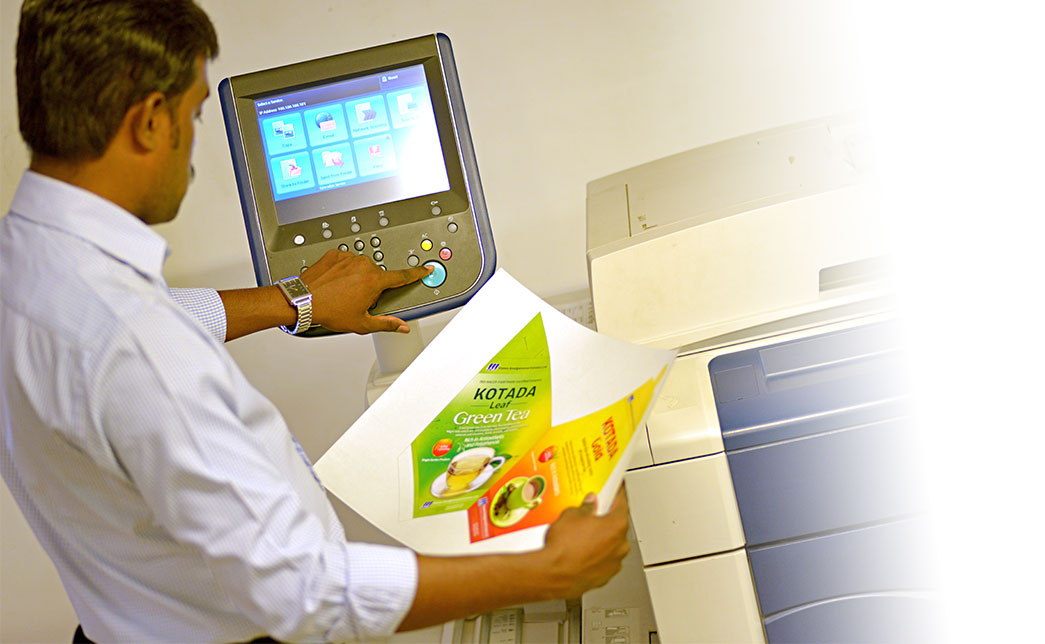 Printing Plate Making
To ensure crisp, High Definition printingtrue to the vivid colours of the design in our German Presses, the printing Plates are made from premium materials and developed from state-of-the-art CTPmachines.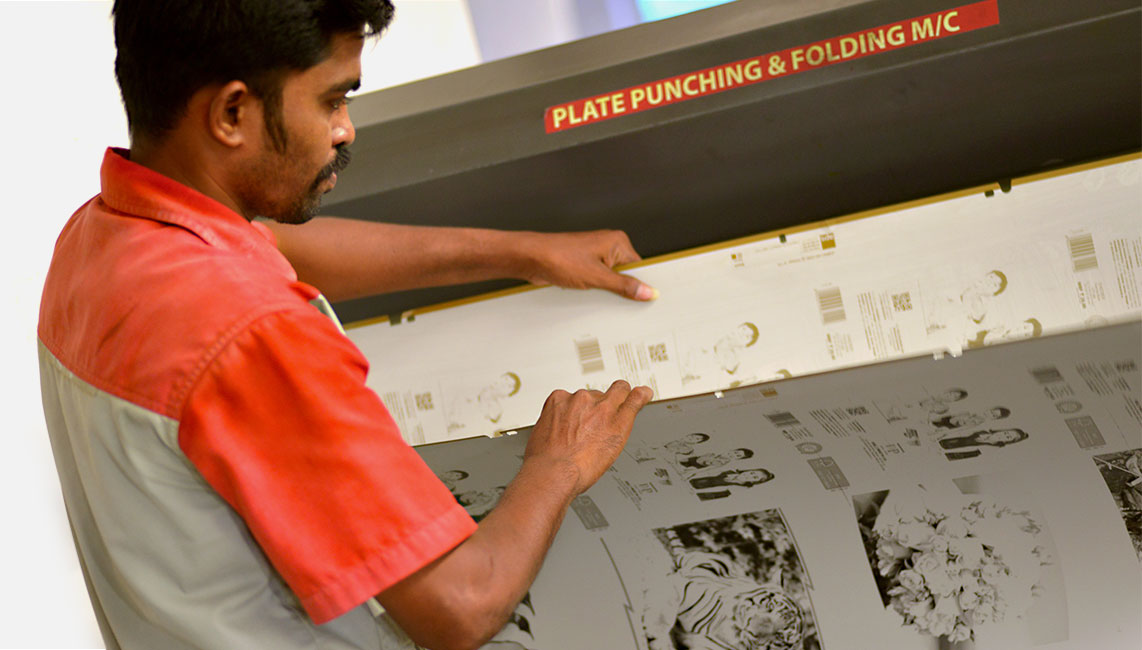 Raw Materials
For the highest quality end product, we ensure all our raw materials are Top Grade. From Paper Boards, Lamination Film to Inks and Threads (to suspend the dangler), we ensure we find a balance of quality and right price.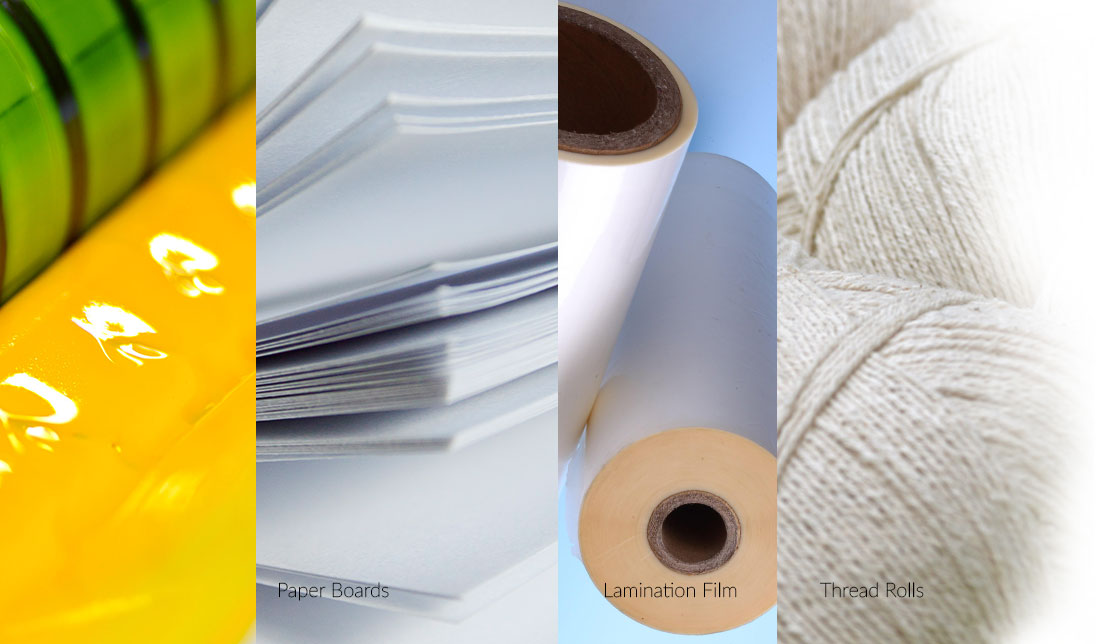 Production Schedule
Our team of young professionals, all of them Printing Technologists-begin planning the schedule of processes to ensure there are no delays to the committed delivery schedule. Our Cloud-based ERP systems take care of adherence to each process timeline.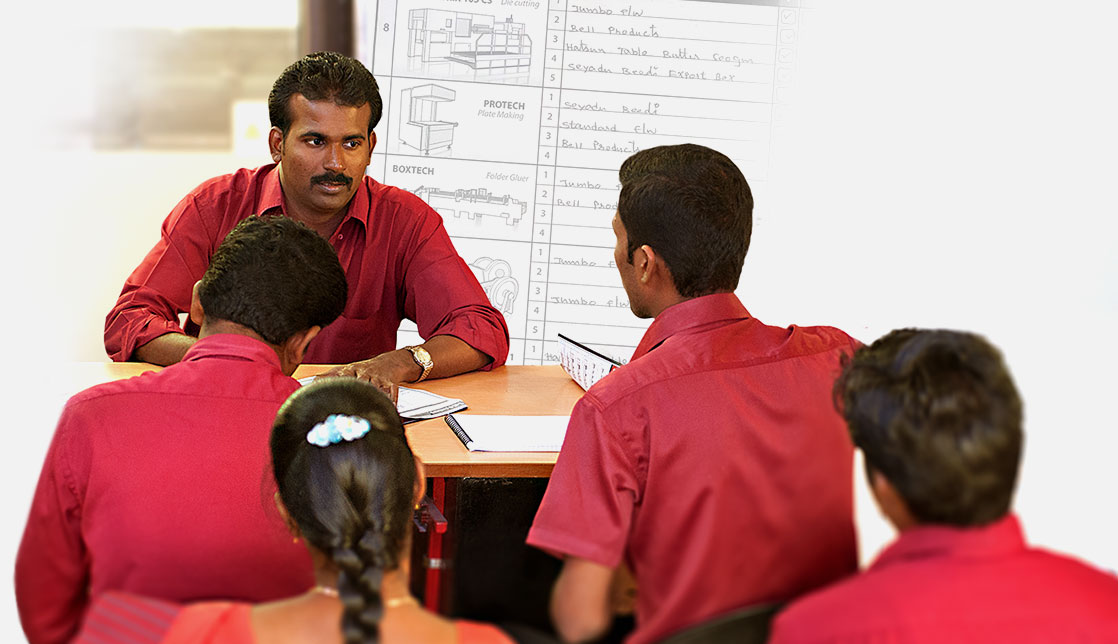 Perfect Printing
Another team of experienced Printers and assistant Printers then start preparing the presses to run the job.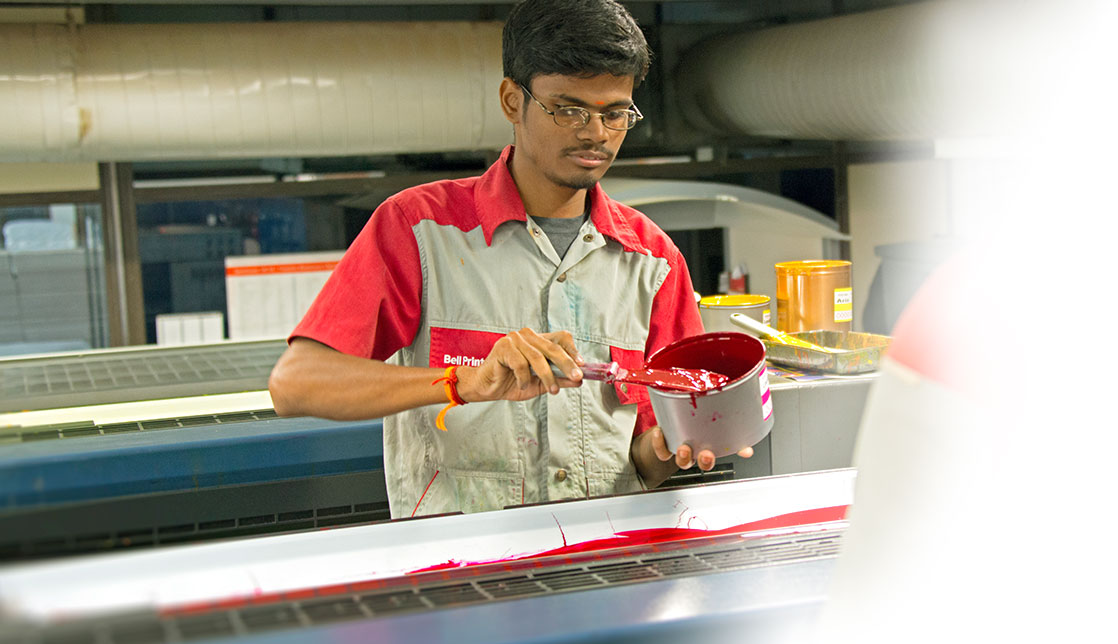 Quality Inspection
The print quality at Bell Printers has been validated by customers in 3 continents to be of world-class standards. Each process undergoes stringent Quality Inspection to reproduce Flawless printing, with waste sheets as low as 20.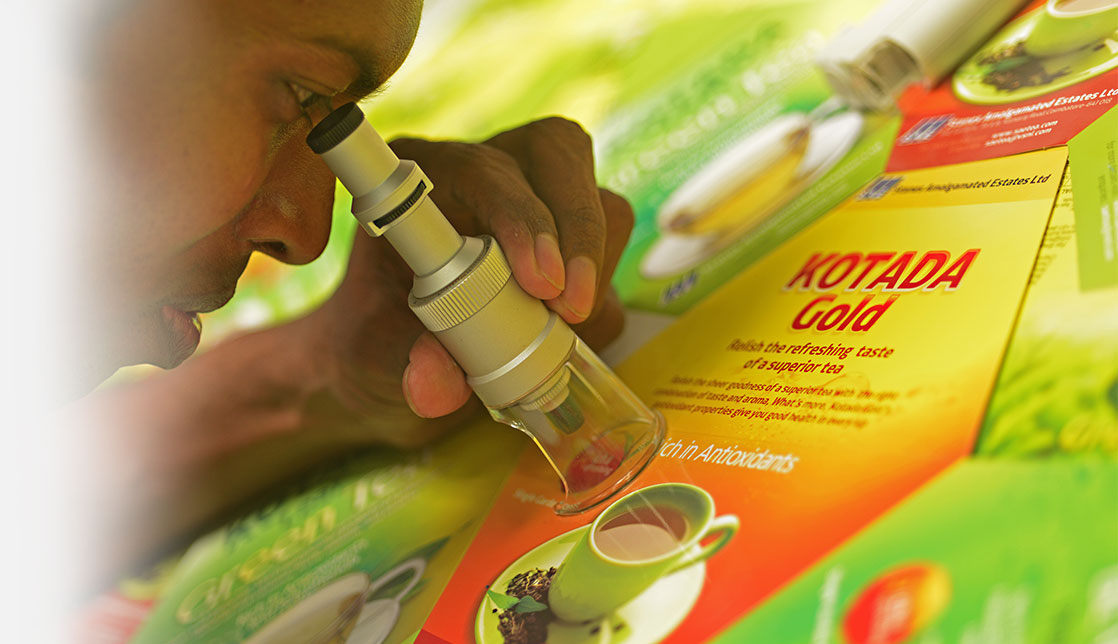 Lustrous Lamination
To extend the life to the printed sheets dramatically, Lamination is done. Not just enhancing the visual appeal, the glossy lamination also makes the product water-proof and scratch-proof. Some customers claim it also makes their products dust-resistant!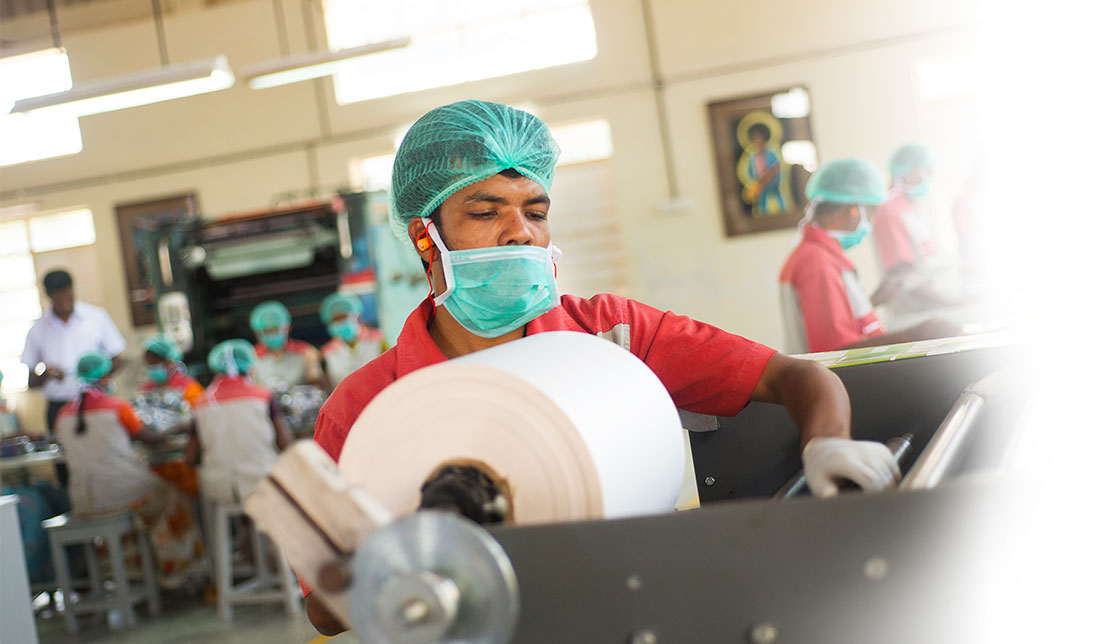 High Speed Die Cutting
Not just simple die-cutting, but Creasing and Stripping are additional processes done in a single pass. With as many as 7000 large sheets die cut in one hour in one machine, our gear can produce phenomenal quantities in a just a shift.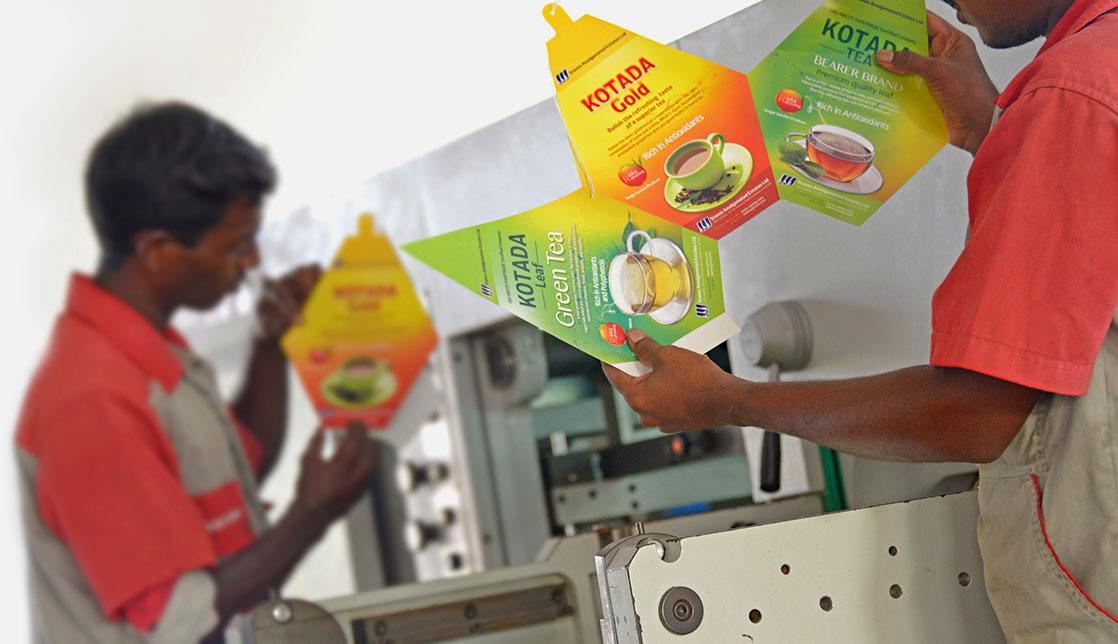 Photography
Meticulous Documentation of all our manufactured products is a standard procedure we follow at Bell. Many customers appreciate the quality of the marketing material we help develop using our High end DSLRs andLightBoxes.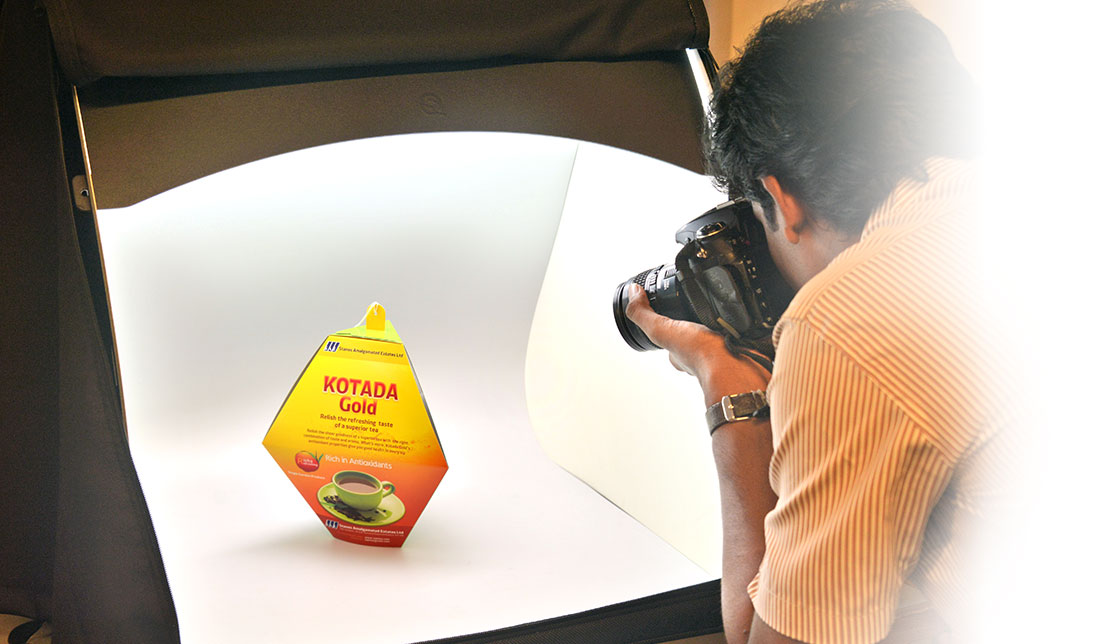 A Job Well Done
From inception to delivery, this 3 Dimensional Dangler for the Stanes Group follows our routine processes of production. This particular job had 11 Processes, but we often take up challenging jobs that include upto 32 processes.
Our work-flow often changes course dramatically as each of our highly creative and resourceful team members compete against one another to innovate and break all barriers. And we pass all benefits to our customers to Sell Well with Bell!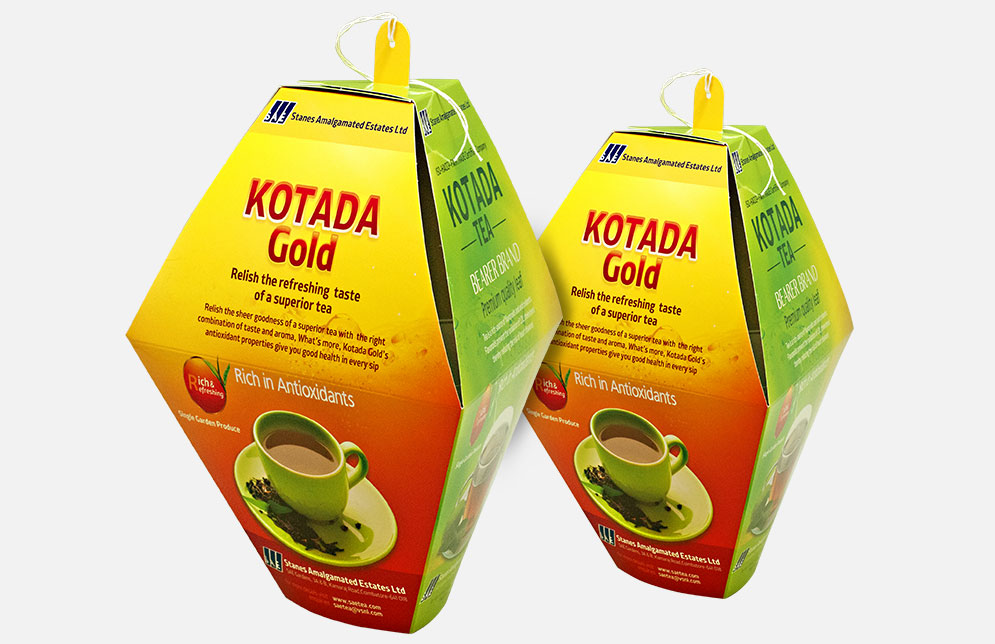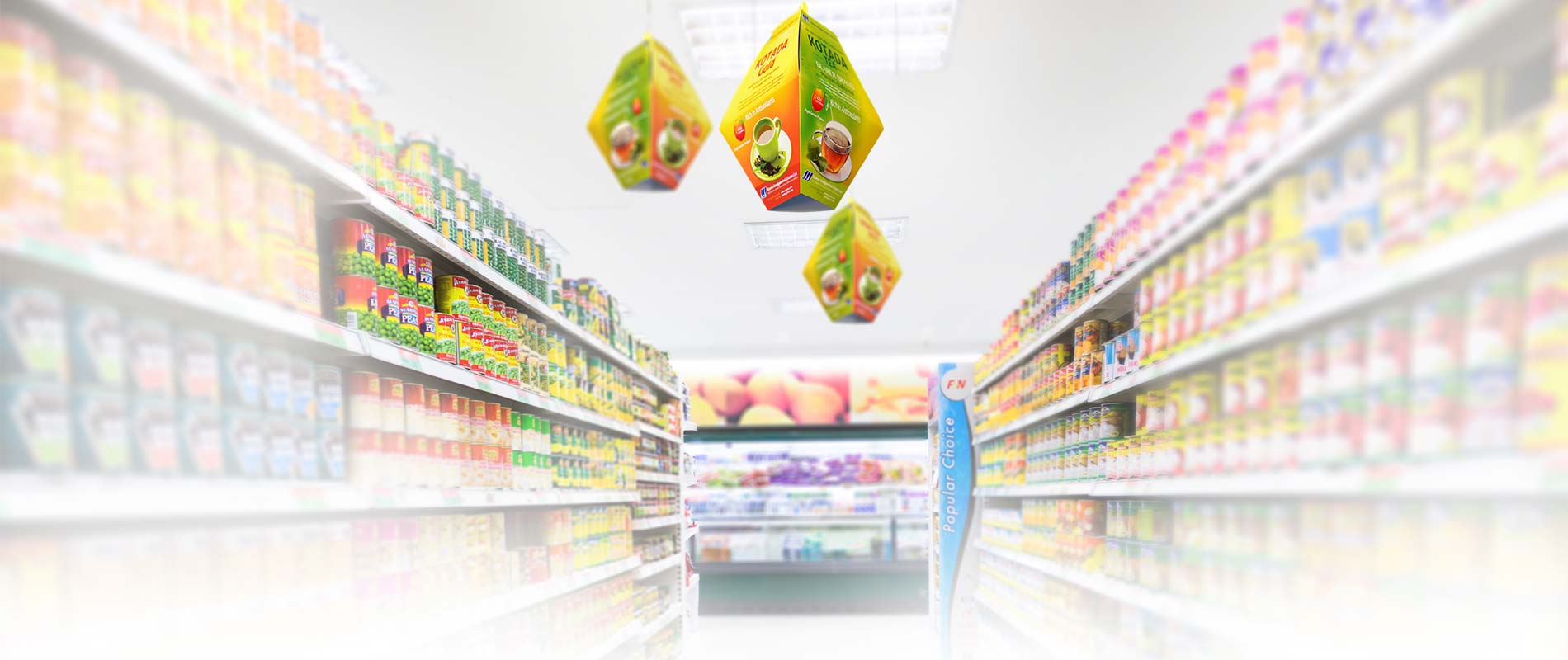 Sell Well with Bell
At the supermarket, our Danglers create a stunning visual appeal, floating, rotating and dancing gracefully - amidst the white noise of a thousand competing brands. Our printed packaging dominate complete segments in many South Indian supermarket shelves.